By Graham Hays
ESPN.com
There should have been so many more decades to find the right words to explain Robyn DesOrmeaux. There should have been so many stories that they piled atop each other, first forgotten, then remembered and eventually embellished a dozen times in old age.
There should have been so much time.
Instead, DesOrmeaux, the starting goalkeeper for the LSU women's soccer team just five years ago, is gone at the age of 27. This past Thursday, time ran out in her five-year battle with cancer.
"She just kept fighting," former LSU coach George Fotopoulos said. "Some people do this, you see it in stories or you see it in movies, where people say, 'George, it's just my time to go.' And they just give up.
"She never gave up."
The stories that remain are painful parables of a personality. They are not the soft, comforting stories told from a distance of time to remember what was. They are the raw, fresh stories by which we reassure ourselves that we will not forget what never can be again. They are her.
[+] Enlarge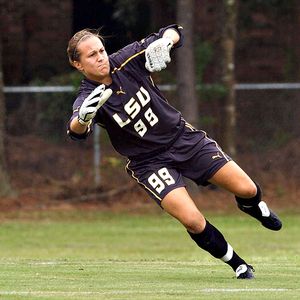 Jason Feirman/LSU Sports Information DesOrmeaux suffered injury during her LSU career, but still ended up the Tigers' winningest goalie.
Fotopoulos was the coach who recruited DesOrmeaux at LSU. In fact, she was one of the cornerstones of his first recruiting class in 2000 — a decorated youth player in Louisiana who had yet to sign with a college when the Tigers' new coach, intent on keeping the state's best talent from straying to more established programs, pitched her on coming to Baton Rouge. So when a trainer called him early in her freshman season with news of a knee injury for the keeper, his thoughts immediately turned to which drill might possibly have put the season in jeopardy.
Only it hadn't been a drill with the strength coach or a collision in a scrimmage. As DesOrmeaux calmly explained when he finally reached her on the phone, she had been trying to help someone back a car out of a parking space at church when the driver inadvertently ran over her leg.
Her season cut prematurely short, she wasn't angry. As her coach recalled, her response was typical Robyn: It was an accident; the driver didn't mean to do it. It happens.
"And here I am, selfishly saying, 'Oh, what am I going to do now?' Here's my starting goalie. It's my first year; I'm trying to change the program around. I need this girl," Fotopoulos said. "So what does Robyn do? She takes a negative and makes a positive. She goes and she just, as a freshman, embraces our junior goalkeeper and our senior goalkeeper. And [she] spends that season being just an unbelievable supporting person for them, giving them confidence, praising them when things were down, lifting them up when practices were hard.
"I mean, we went on to have a 15-win season with two goalkeepers that, I mean, are nice kids but nowhere near the ability of Robyn. And I'm totally convinced it was Robyn who made them a better player, not me. She made them a better player because of the confidence she gave them and the belief and the faith she gave them to persevere and to excel."
By the time her career was over, DesOrmeaux was LSU's winningest goalkeeper. But that early hurdle was who she was, the unassuming player who tried to assure Fotopoulos she was worth his time in the recruiting process, even as he offered his best sales pitch about a possible professional career and national team dreams. The devout person of faith who also loved rap music and wowed even the musically skeptical with the Christian rap video she put together.
"Some people do this, you see it in stories or you see it in movies, where people say, 'George, it's just my time to go.' And they just give up. She never gave up.

" — Former LSU coach George Fotopoulos, on Robyn DesOrmeaux
And she was the competitor who constantly demanded the Jugs machine firing soccer balls at the keepers in practice be turned to a faster speed. By her coach's reckoning, the welts on her stomach were a message intended for anyone with thoughts of taking away her position.
She was all of it, as inherently good and decent as she was naturally Louisianan.
"We were on a bus one time coming back from a game," Fotopoulos recalled. "And in Louisiana, at certain parts of the year, there's frogs everywhere. And we're driving down the interstate — and we have girls from everywhere; we got girls from Florida, California and Colorado — and this is just Robyn: I see all this and I say, 'Man, look at all those frogs.' And she goes, 'Can we stop, Coach?'"
Stop for what, Fotopoulos wanted to know.
"We're going to eat them!"
She was also, as she often told her coach, the greatest crawfish cook in the state of Louisiana.
Diagnosed with Ewing's sarcoma in November 2004, at the end of a senior season in which the mounting back pain present through much of her time in college cut short her playing time, DesOrmeaux fought the disease for five years. There was a period of remission, but the blog her mother updated throughout the years tells an agonizing story of hopes raised and dashed, of prayers requested not for a miracle cure but for a night of pain-free sleep for her daughter.
There is an easy cynicism that comes in an age when almost no story goes untold and no news is out of reach. We hear feel-good stories about people, often athletes, overcoming long odds and hideous diseases. We hear so many that they almost become rote. It's the cautionary tale with a happy ending, the lesson that we shouldn't take anything for granted — but not to worry; the heroes in question survived their adversity to live a long and happy life. At worst, we roll our eyes and mock. At best, after enough repetition, the stories simply lose some of their power.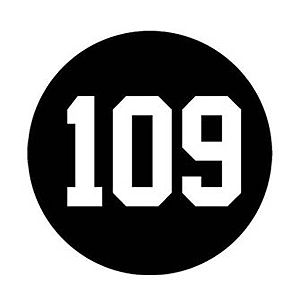 Jason Feirman/LSU Sports InformationThe Tigers will wear a patch this season commemorating the 109 percent effort DesOrmeaux said she'd give every day (combining her No. 99 jersey and the 10 percent chance of her surviving five years given by her doctors).
But no matter how many times those stories are told, or how often the percentages say they happen, each is individually miraculous. All too often, there is no happy ending. For all the inspirational appeals, fundraisers and compassion that are trademarks in the buildup to a typical happy ending, there is often only the pain that comes from having the courage to forestall the inevitable.
With each phone call between the two over the years, Fotopoulos heard both the insatiable optimism DesOrmeaux refused to abandon and the frequent disappointment of another failed drug trial or treatment. But perhaps the most telling were the calls that went to voice mail, an old recorded greeting offering the sound of a voice unburdened and unbowed by all that was to come. And it's the memory of both voices, the tired and the triumphant, that remind people such as Fotopoulos of someone who changed the way they looked at the world
"When I first got to LSU, you know, everything is about winning. Win, win, win. Win at all costs because that's the only thing that matters," Fotopoulos said. "Robyn DesOrmeaux changed my life, not just in the later years, even in the beginning.
"Robyn DesOrmeaux made me a better father; she made me a better husband; and she's for sure made me a better coach. Because she reminded me, and she taught me, that it is not my responsibility to make better players. It's not my responsibility to win championships. Because those things are great, and they come and they go and everything else like that. She reminded me many times it is my responsibility to help make better people, to affect people's lives because in the end, that's what is really going to matter."
Fotopoulos said he cried three times Thursday. The first when he found out that DesOrmeaux had passed away. Another time when he told his wife. And the third time when he spoke to a family member and learned it was DesOrmeaux's wish that he be a pallbearer at her funeral.
There is no way to make sense of DesOrmeaux's death and no moral to the story that explains away a tragically brief life. There is only the truth she chose to live by, that whether we're given more or less time than we deserve, the surest way to lose is to worry only about winning.
"She always let me know that it was OK to want to win, and winning was important," Fotopoulos said. "But she always reminded me, too, 'Coach, what's more important is having an effect on people's lives.'"
She lived that lesson more effectively in her 27 years than most of us will in our lifetimes.
Graham Hays covers women's college soccer for ESPN.com. E-mail him at Graham.Hays@espn3.com.